Materials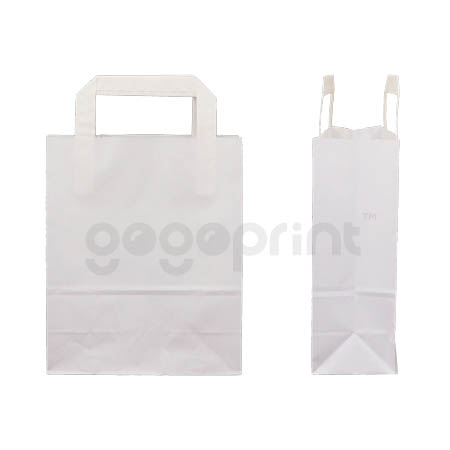 Paper bag 175 x 90 x 230 mm in height
Dimensions: 175 x 90 x 230 mm (width x depth x height)
Color: white
Material: kraft paper 70 g/m²
Handle: white paper flat handle
Load capacity: 4 kg (distributed weight)
It is made of 100% cellulose and is recyclable and compostable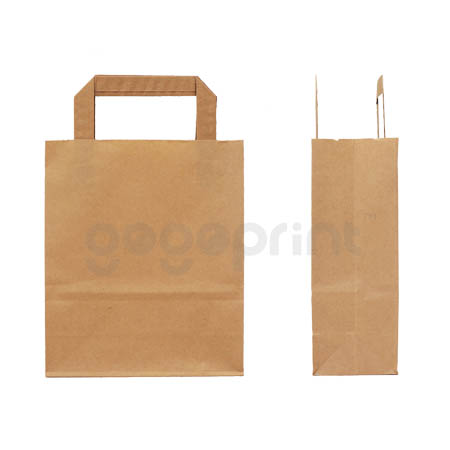 Paper bag 175 x 90 x 230 mm in height
Dimensions: 175 x 90 x 230 mm (width x depth x height)
Color: natural brown
Material: kraft paper 70 g/m²
Handle: brown paper flat handle
Load capacity: 4 kg (distributed weight)
It is made of 100% cellulose and is recyclable and compostable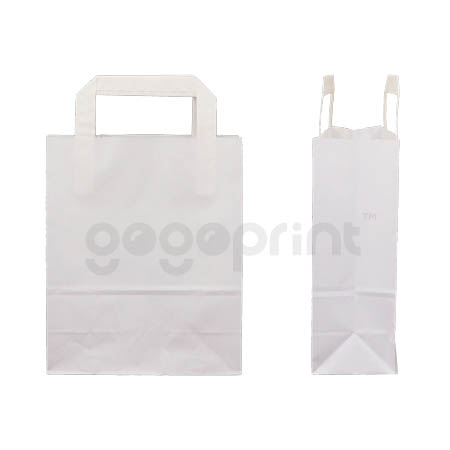 Paper bag 260 x 140 x 300 mm in height
Dimensions: 260 x 140 x 300 mm (width x depth x height)
Color: white
Material: kraft paper 80 g/m²
Handle: white paper flat handle
Load capacity: 6 kg (distributed weight)
It is made of 100% cellulose and is recyclable and compostable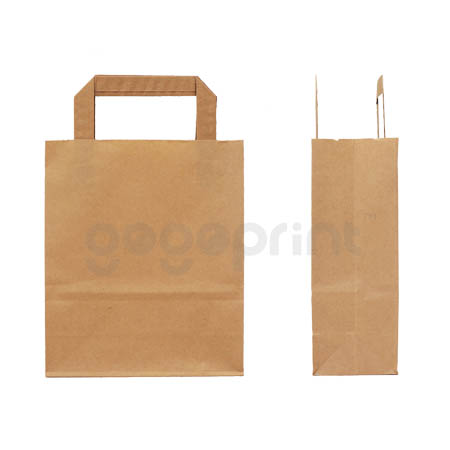 Paper bag 260 x 140 x 300 mm in height
Dimensions: 260 x 140 x 300 mm (width x depth x height)
Color: natural brown
Material: kraft paper 80 g/m²
Handle: brown paper flat handle
Load capacity: 6 kg (distributed weight)
It is made of 100% cellulose and is recyclable and compostable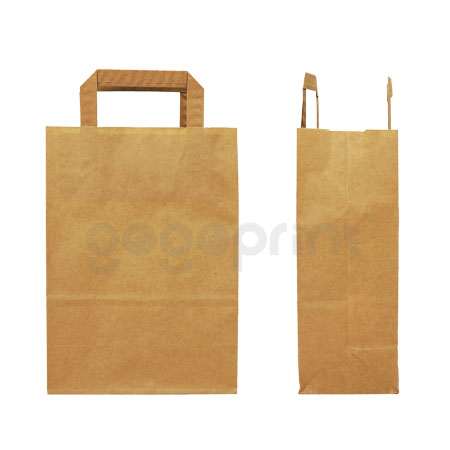 Paper bag 260 x 160 x 330 mm in height
Dimensions: 260 x 160 x 330 mm (width x depth x height)
Color: natural brown
Material: kraft paper 80 g/m²
Handle: brown paper flat handle
Load capacity: 6 kg (distributed weight)
It is made of 100% cellulose and is recyclable and compostable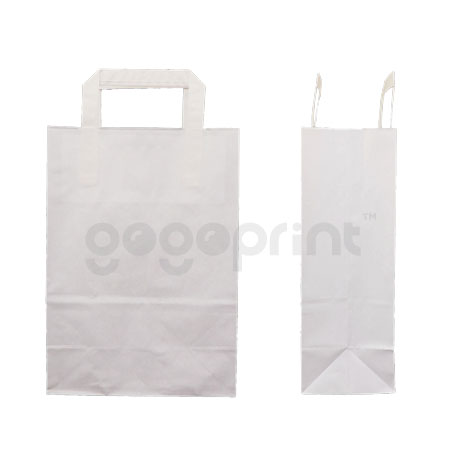 Paper bag 260 x 160 x 335 mm in height
Dimensions: 260 x 160 x 335 mm (width x depth x height)
Color: white
Material: kraft paper 80 g/m²
Handle: white paper flat handle
Load capacity: 6 kg (distributed weight)
It is made of 100% cellulose and is recyclable and compostable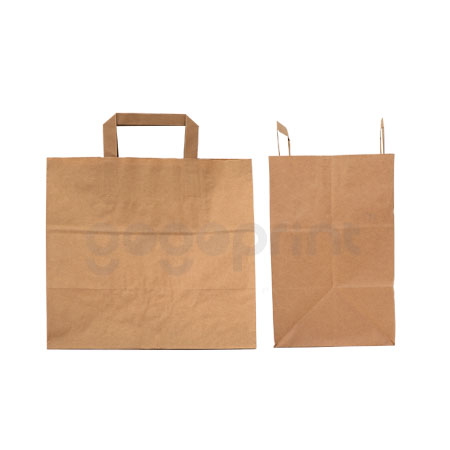 Paper bag 280 x 160 x 405 mm in height
Dimensions: 280 x 160 x 405 mm (width x depth x height)
Color: natural brown
Material: kraft paper 80 g/m²
Handle: brown paper flat handle
Load capacity: 6 kg (distributed weight)
It is made of 100% cellulose and is recyclable and compostable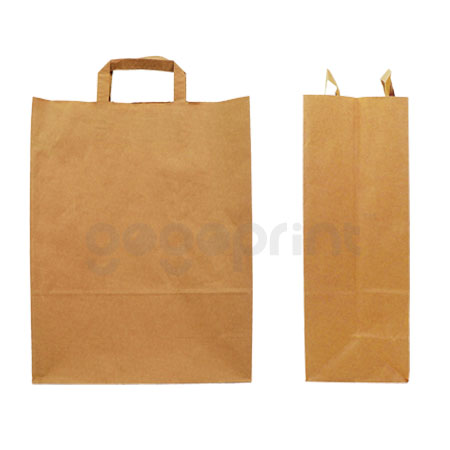 Paper bag 320 x 160 x 420 mm in height
Dimensions: 320 x 160 x 420 mm (width x depth x height)
Color: natural brown
Material: kraft paper 80 g/m²
Handle: brown paper flat handle
Load capacity: 6 kg (distributed weight)
It is made of 100% cellulose and is recyclable and compostable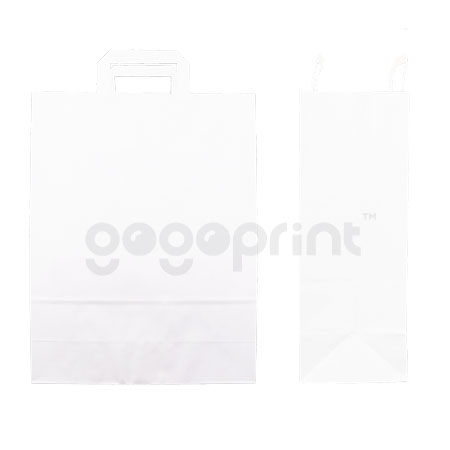 Paper bag 320 x 170 x 410 mm in height
Dimensions: 320 x 170 x 410 mm (width x depth x height)
Color: white
Material: kraft paper 80 g/m²
Handle: white paper flat handle
Load capacity: 6 kg (distributed weight)
It is made of 100% cellulose and is recyclable and compostable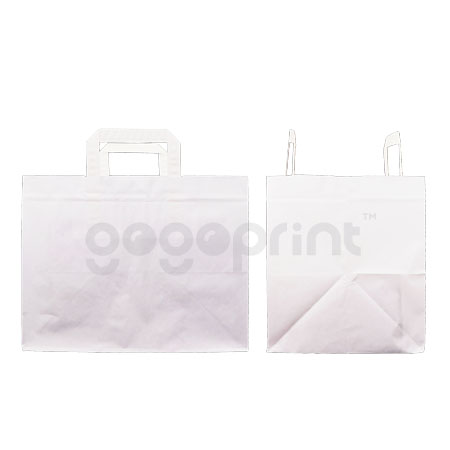 Paper bag 320 x 220 x 250 mm in weight, Takeaway
Dimensions: 320 x 220 x 250 mm (width x depth x height)
Color: white
Material: kraft paper, 70 g/m²
Handle: white paper flat handle
Load capacity: 4 kg (distributed weight)
It is made of 100% cellulose and is recyclable and compostable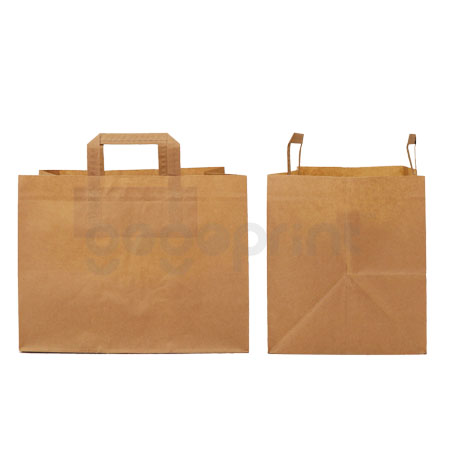 Paper bag 320 x 220 x 250 mm in width, Takeaway
Dimensions: 320 x 220 x 250 mm (width x depth x height)
Color: natural brown
Material: kraft paper 70 g/m²
Handle: brown paper flat handle
Load capacity: 4 kg (distributed weight)
It is made of 100% cellulose and is recyclable and compostable.
FAQ
How long does production take and what is the delivery date?
You can always see the delivery date in the configurator. After entering the necessary product parameters and selecting the quantity, the delivery date will be displayed to you.
Is it possible to produce a sample?
Upon request, we can produce a sample for most products before a larger order is placed. However, due to necessary pre-printing preparations, production and sending of samples are subject to a fee (the price will be provided upon request).
Is it possible to print an image on a bag?
Screen printing technology doesn't allow printing of raster images.
Is it possible to print a bag to the edge / on the side?
Screen printing technology has certain limitations and doesn't allow printing on the edge (to the edges). We only print paper bags on the front and back.
Can I request a sample before production?
Yes, after creating and paying for an order, the file sent will be reviewed by a graphic designer and then a preview will be sent to you for approval. Only after approval of the preview will the order be passed on to production.
Templates

Templates for download
You can download templates in appropriate formats that you can open and edit in your editor to create your own graphics. Remove all template elements from the resulting print file.